Teeth Whitening in Melrose, MA
Special occasion coming up? Teeth whitening can give you a brighter, more confident smile. Professional teeth whitening is easy & safe with ZOOM!® A smile up to 8 shades whiter in just 45 minutes!
GIVE THE GIFT OF A WHITER, BRIGHTER CONFIDENT SMILE! GIFT CERTIFICATES AVAILABLE.

ZOOM!® TEETH WHITENING EXCLUSIVE OFFER!
Please click on our Exclusive Offer on our ZOOM!® Teeth Whitening Special located at the bottom of this page and our Home page!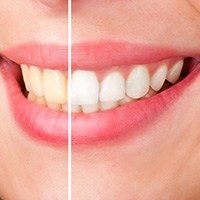 Why Choose Pan Dental Care for ZOOM!® Teeth Whitening?
Highly-Skilled Team in both ZOOM!® Professional In-Office & ZOOM!® Take Home Custom Tray Whitening System
We use the most advanced technology available, called ZOOM!® to whiten your teeth
Dedicated to Personalized Care with Our Award-Winning Team
Super Convenient Evening Hours to 8:00pm (Monday through Thursday) & Every Saturday
Please Browse our website and discover why Pan Dental Care is #1 Best Dentists in Readers Choice Awards and Boston Magazine Top Dentist Award!
How Does Professional In-Office ZOOM!® Teeth Whitening Work?
In today's world, everyone wants instant results. Well, we can give you dramatically whiter teeth in just one hour-long appointment! Using a light-activated, powerful whitening treatment, we can remove years of accumulated stains and discoloration in a shorter period of time.
We take care of everything while you sit back, relax, and let the ZOOM!® treatment improve your smile. The results are dramatic -- up to seven to nine shades whiter in less than 60 minutes! You can quickly go on with your day right away with a whiter, brighter smile.
What Are the Steps to Do Take-Home ZOOM!® Teeth Whitening?
To accomplish the whitening of your teeth, we utilize a tray whitening system. This tray whitening system is completed in 2 steps:
The first step is to make an impression of your teeth. With this impression, we'll craft you custom whitening trays that you can use over and over.
Finally, you will take the ZOOM!® whitening gel and put it in the custom trays for a short period of time over a period of a few days. This often results in a whiter smile of 4 - 8 shades! Please contact Pan Dental Care in Melrose, MA today to see if you are a candidate for this type of ZOOM!® whitening!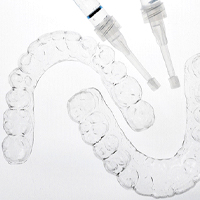 Take Home Zoom!® Teeth Whitening Custom Trays
Although our take-home ZOOM!® whitening kits may seem pretty similar to commercial whitening solutions, this treatment is different in important ways. For instance, instead of using one-size-fits-all whitening trays or strips, we actually fabricate trays to fit your unique teeth.
During your consultation, we will collect impressions of your upper and lower teeth so that we can provide you with custom trays. (See photo of the custom home-bleaching trays.)
As a result, the ZOOM!® whitening gel can be evenly applied on your teeth for a seamlessly brighter smile in the comfort of your own home!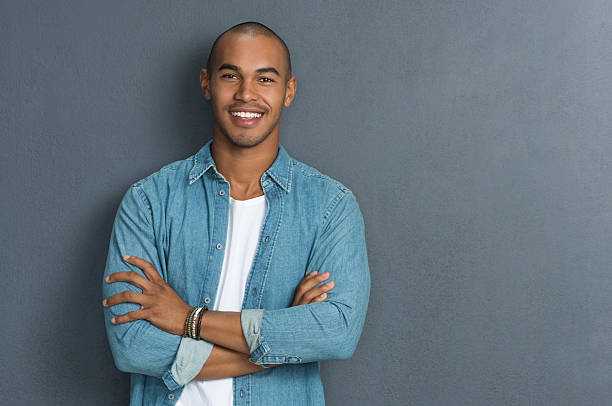 How Do I Maintain My ZOOM!® Whiter Smile?
After whitening, your new, brighter smile will be preserved the longest if you're willing to forgo such habits as smoking, drinking coffee and drinking tea. Deeply pigmented foods and beverages can discolor your teeth again sooner than you want. Also, you need to implement good, healthy habits into your lifestyle, including daily brushing and flossing as well as regularly visiting our office for professional cleanings. These actions can keep stains from returning for as long as possible.
ZOOM! Teeth Whitening at Pan Dental Care in Melrose
Keeping our teeth their whitest is a lot harder than it sounds. With all the coffee, wine, smoking and other foods that have the ability to stain our teeth on a daily basis, even proper maintenance sometimes leaves them a little lackluster. Teeth whitening is an excellent way to restore the natural color of your teeth or even make them whiter than your natural color if you would like.
Learn More About Teeth Whitening