Dental Cleanings & Periodontics in Melrose, MA
Pan Dental Care
Where Our Family Welcomes Your Family Since 1988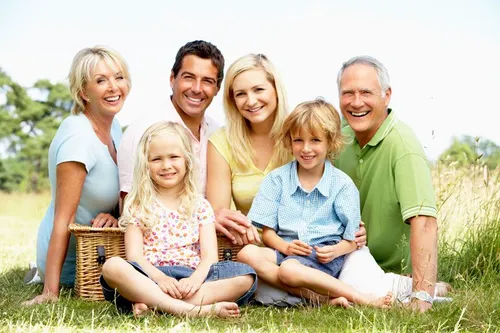 Did you know that healthy teeth and gums can help you live a longer and healthier life?

Why Choose Pan Dental Care For Preventive Dentistry?
Dedicated Family of Pan Dentists (Dad, Mom & Sons, daughter) Trusted Since 1988
Advanced Digital Dentistry for Faster, Easier & Gentle Care
Ultra Convenience! Schedule Your Online Dental Cleaning and Check-up
Open evenings to 8:00pm (Monday through Thursday) & Every Saturday!
Children, Adults & Whole Families are Always Welcome!
Has It Been More Than Six Months Since Your Last Teeth Cleaning & Check-Up?
If yes, Lori and Rochell will be delighted to schedule your personalized appointment by phone call at 781-665-5190. Or if easier, simply press the button (located at the top this page) to schedule your ONLINE APPOINTMENT for new and existing patients, adults, teens, toddlers, infants, and everyone who falls somewhere in-between. We love seeing the whole family! At Pan Dental Care, our friendly, caring highly-skilled team will truly impress you with comfort, ease and smiles!
At Pan Dental Care, we want to help you keep oral health problems away for a lifetime to come. Unfortunately, 75% of adults will still experience periodontal (gum) disease.
Visiting our dental office every six months is a great way to ensure you aren't surprised by a significant periodontal infection - but if you do find yourself dealing with persistent bad breath, swollen, bleeding and tender gums, and the other side effects of gum disease, the dedicated and highly qualified team at Pan Dental Care is ready to help.

Dental Check-Ups & Teeth Cleanings
All of our patients, from baby's first tooth to our oldest at 106, and everyone in between, we all need to be visiting Pan Dental Care at least twice each calendar year. Why? Because even the most diligent brushers and flossers can end up with concerning dental problems that go unnoticed by untrained eyes.
At Pan Dental Care, our knowledgeable team will be able to pinpoint dental problems in the earliest stages during a professional dental check-up and provide effective treatment that potentially saves you from more extensive damage and cost down the road. Additionally, our gentle and caring registered dental hygienists will eliminate decay-causing plaque, tartar buildup, and minor staining from the oral surfaces during a thorough dental cleaning.
75% OF ADULTS HAVE DENTAL GUM DISEASE
Gum Disease Treatment
At Pan Dental Care, we love healthy pink gums. Why? Because healthy pink gums (not bleeding gums) can help a person live a longer and healthier life!
Unfortunately, periodontal disease (also known as gum disease) is the number one cause of tooth loss among adults here in the United States.
This oral infection is no laughing matter, and our experienced team works hard to help patients avoid it through focused preventive care and effective oral therapy options. We also have an in-house periodontist who provides specialty services to restore much-needed health to teeth and gums once damage is already present.
Root Planing (Deep Scaling)

Often there is plaque and tartar that accumulates below the gum line. In this scenario, we will clean and smooth this area with special instruments to ensure that the area is completely spotless. If this area is not kept clean the entire area can become irritated with the bacteria that resides in the tartar and bacteria.
Deep Scaling and Removal of Mouth Odor
All of us have suffered from bad breath at one time or another. But it is estimated 40 million Americans suffer from bad breath that never goes away. The medical term for this condition is halitosis. Surprisingly, most people with halitosis are not aware of their problem breath. That is because our sense of smell has an amazing ability to adjust to odors. Unfortunately, there is no cure for 90% of oral halitosis. It requires long-term control and management of this condition with regular dental cleanings and deep scalings.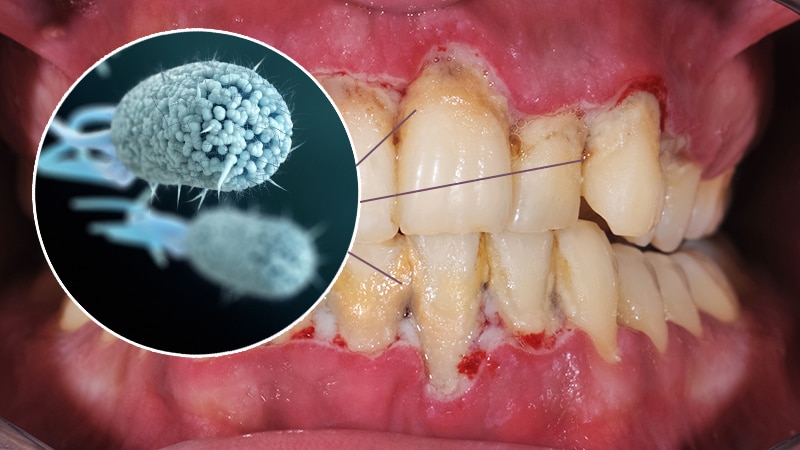 Most people think bad breath is a result of what is going on in our stomachs. But that is not the whole story. The actual odor of halitosis is generated by bacteria thriving in the mouth under the gums, and in the nooks and crannies on the teeth and the surface of the tongue. Left untreated, these bacteria create volatile sulfur compounds that have a characteristic "rotten egg" smell. Most people would probably like their breath to be more pleasant than that. Come in to find out more!
Oral Cancer Screenings
Did you know that on average, one person dies from oral cancer every hour? Catching this dangerous condition in the earliest stages possible can make a world of difference for our patients, which is why the Pan Dental Care team works diligently during your regular preventive appointments. A thorough examination of the tongue and oral tissues will shed light on any concerning indications, such as discoloration and lumps. If needed, questionable lesions can be tested through biopsy to determine if cancerous cells are present. Certain lifestyle choices can have a great impact on the health of tissues and your overall health in the mouth. If you are a smoker or heavy drinker, make sure to get regular screenings when you visit the dentist.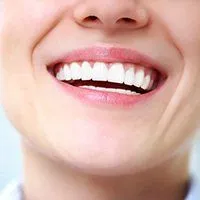 Dental Sealants
Dental sealants are an excellent and very easy way to help younger patients enjoy healthier teeth as they're still learning how to brush and floss. A sealant is a thin, protective layer made from safe, plastic-based materials. It is applied over the surfaces on the chewing surfaces of back teeth (the premolars and molars), and it acts as a barrier from food particles and harmful bacteria. As a result, your son or daughter greatly decreases their risk of developing cavities in these hard-to-reach areas!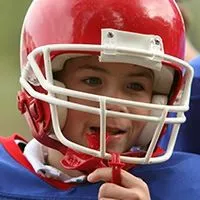 Sports Mouth Guards
If you've got passionate athletes in the family, we strongly recommend investing in a custom-made sports-guard from Pan Dental Care. Unlike "one size fits all" appliances from the local sports store, these high-quality devices are designed with a patient's comfort in mind, providing a secure, flexible fit that keeps teeth safe from harm while still allowing for easy breathing and speaking throughout the big game.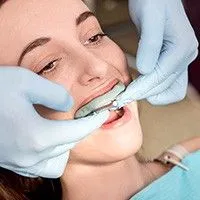 Nightguards for Bruxism
Bruxism (the fancy term for "teeth grinding") is a very common oral health problem that can affect people of all ages. If you're regularly waking up in the mornings with a sore jaw and lingering headaches, it is likely that you grind your teeth at night without even realizing it. Thankfully, our team can help protect your smile from continuing wear with the support of a custom-made nightguard. This sturdy device will establish a tough barrier between the top and bottom teeth, minimizing dangerous contact as you rest easy.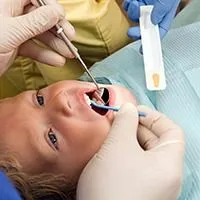 Fluoride Treatments
Years and years of research have demonstrated a clear positive link between healthier, stronger teeth and safe exposure to fluoride through drinking water and oral hygiene products. This natural mineral can work wonders on the enamel, which is why our dentists may recommend professional applications for children and adults during routine checkups. This process only takes a few minutes, and is a safe and effective way to further fight formation of cavities.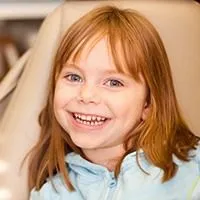 Children's Dentistry
At Pan Dental Care, we love welcoming in the whole family for ongoing care! Our dentists can treat infants, toddlers, school-aged children, teenagers, and everyone who falls somewhere in-between, supporting their growing smiles at every major stage of development by providing gentle, friendly services that are well-suited to their current level of emotional maturity. Many of our preventive services are very well-suited for younger teeth, such as dental sealants, fluoride treatments, and more.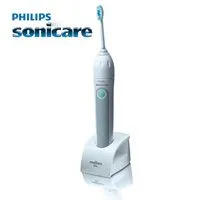 SoniCare Brush & Flossing
All power toothbrushes are not created equal: SoniCare has patented sonic technology with bristle tips moving 3 times faster than other leading power toothbrushes to create dynamic cleaning action. A SoniCare toothbrush will help you remove plaque and pesky surface stains from your teeth, as it has been clinically proven to significantly reduce coffee, tea and tobacco stains in just 28 days.
Remember the old adage, "You only need to floss the teeth that you want to keep!" If you've heard it once, you've heard it a million times. And, it's true. Be sure to floss at least once per day. It's important because if you forget to floss, the oral bacteria can multiply and increase by 400 times in 24 hours. Here's a tip: Try flossing first, before you brush. That way, you won't forget to floss!
Water Pik and Water Pik Complete Care Electric Toothbrush
Water Piks are extremely helpful to remove large particles of food, especially with braces, dentures, partial dentures and spaces between the teeth.
Oral Hygiene
To ensure that you maintain great oral health, this level of quality needs to extend into your personal oral hygiene routine. We can help you establish a dental hygiene routine that will keep your teeth healthy and white. If you have any questions about your current hygiene plan please ask us.
Your teeth are not the only important part of your mouth. Your gums are essential to oral hygiene as well. We can provide periodontal cleanings and treatment. Please let us know if you have any questions.
Schedule an Appointment Today!
Preventive dentistry at Pan Dental Care in Melrose is the ticket for ensuring that you receive prompt gum disease treatment when you need it. When was your last visit to Pan Dental Care?
If it's been more than six months, it's time to come see us! Request an appointment with our team today.
Call: 781-665-5190
Email: [email protected]
While at our office at Pan Dental Care, we make sure that you receive the highest level of service and ensure that our dental work is of the highest quality.