LASER DENTISTRY - MELROSE, MA
A new and wonderful era in Drill-Less Dentistry has begun with Laser Technology!!

Our high-tech office at Pan Dental Care in Melrose is pleased to offer this state-of-the-art technology to our patients. Lasers are an amazing new technology for the dental office.
.
Lasers have the advanced capability to:
Drill-Less Fillings!! Perform dentistry without the need for a drill! Sterilize your restoration and gum tissue as it is healing
Fill teeth without the need for needles, being able to eat and talk and chew right after fillings. remove decay from small fillings and replace them with the natural color of your tooth.
Perform gum surgery without the need for needles and no bleeding or stitches, being able to eat, drink and talk right after surgery with no discomfort.
ESTHETIC GUM CONTOURING WITH COMFORTABLE LASER
Sometimes, a patient's smile simply contains too much gum tissue, resulting in teeth that look noticeably uneven or "stubby" in appearance. Our dentists offer esthetic gum recontouring here in-office with our Biolaser Laser, which will involve a conservative reshaping of the natural gum line in order to reveal previously hidden dental structure and create a much more symmetrical and pleasing look. Gum recontouring may also become necessary for restorative purposes, such as if a tooth is too far hidden in the tissue to successfully receive a new dental crown.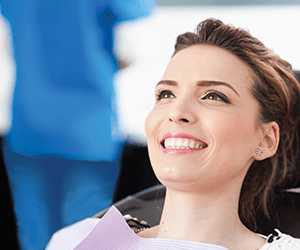 BIOLASE LASER for TEETH & GUMS at Pan Dental Care in Melrose