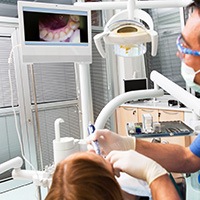 INTRAORAL CAMERA IMAGING at Pan Dental Care in Melrose
Intraoral cameras can reveal so many important details about a unique smile, both for our dental team and for the patient themselves! The camera-tipped wand will capture high-resolution images of the teeth, gums, and more, transferring them to a monitor in the treatment room for immediate viewing. From there, our dentists can refer to these images as a handy visual aid, using them to diagnose dental concerns that may not have been immediately visible during a visual examination. Additionally, they can be referred to when discussing our findings and potential treatment recommendations so that patients feel well-informed regarding what's to come.
The intraoral camera is an amazing diagnostic tool for viewing different angles in the mouth that we would not have been able to just a few years ago. The camera gives us the ability to view the entire mouth on a monitor so that we can get a closer look at any potential issues or problems that may arise. In addition, the patient will have the ability to see for themselves first hand the same images we are seeing. These digital images are also excellent for gaining procedure acceptance from insurance companies.