CEREC One-Visit Porcelain Crowns in Melrose, MA
Pan Dental Care, Known for Excellence in Computerized Technology
Modern & Superior Quality for Outstanding Care
Have you ever been in a situation where you're ready to go to a much-anticipated social event, like a wedding or an important meeting? And suddenly, you break a tooth! Well fear not, Pan Dental Care in Melrose is here to help with a CEREC One-Visit Porcelain Crown. And, only your dentist will know for sure, whether your new tooth is a porcelain crown or your own enamel!
Why Choose Pan Dental Care For CEREC Crowns?
One-Visit Beautiful Porcelain CEREC Crowns
Digital Impressions Available – No More Gagging!
All-Digital 3D X-Rays for Minimal Radiation Exposure
Experience Outstanding Patient Education with Intraoral Cameras
TRUSTED in COMPUTERIZED TECHNOLOGY Since 1988!

With highly experienced and trusted Dr. Pan, we've had CEREC 3D computerized CAD CAM technology since 1999 when we began with CEREC Red Cam, then upgraded to CEREC Blue Cam in 2010 and now, we have two of the latest and greatest CEREC Omni Cam here at Pan Dental Care in Melrose!
No Temporary Crown
No Messy Impressions
One Easy, One-Hour Appointment!
CEREC is an advanced dental technology that is utilized for the restoration of decayed, cracked, or chipped teeth. CEREC can create full crowns, inlays, onlays, and veneers. The CEREC machine crafts a restoration in a matter of minutes. CEREC restorations are made of compressed porcelain. The most beneficial feature of receiving a CEREC restoration is that it is accomplished in one visit. In addition to the benefit of a one visit restoration, there is no uncomfortable impression material to bite on or temporary to wear.
Procedure by Dr. Pan is a one-visit crown. Placement of a CEREC restoration is very simple and fast!
The first step is to remove all decay from the tooth. The doctor will then shape the tooth in preparation to take a digital picture.
The digital camera takes an image. Once this image is captured, the tooth will appear on a computer screen in 3D. This will allow the doctor to design the restoration right in front of you. Once the design is completed, the CEREC will mill the restoration. This step takes approximately 15 minutes. You can actually watch this process if you would like.
When the restoration is finished milling, Dr. Pan will place the restoration. The entire process should take just over an hour. It's that simple!!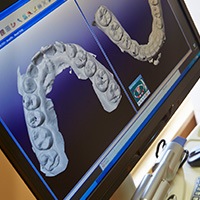 Digital Impression System
Older patients surely remember the days of having to sit still in the dentist's chair while their mouth was filled with a tray of messy impression material. Not only was this experience uncomfortable, but it often resulted in inaccurate results and time-consuming retakes to boot. Today, the Pan Dental Care team has invested in a far superior technique – CEREC Omni Cam.
This state-of-the-art technology captures three-dimensional images of the patient's dental structures with the help of a small wand that's moved throughout the mouth. This means there's NO physical contact required and NO unpleasant threat of gagging for the patient.

3D Cone-Beam Imaging
When planning an advanced treatment like surgical dental implant placement, our advanced-trained dentist, Dr. Jeffrey Pan, at Pan Dental Care in Melrose always want to proceed with full confidence. That's why they regularly utilize the state-of-the-art Galileos 3D Cone Beam Imaging, which creates three-dimensional, exhaustively detailed images of a patient's teeth, jaw, joints, and related facial structures with crystal-clear clarity. By being able to view even the smallest details of your dental anatomy, we can carry out important services with unparalleled precision and success.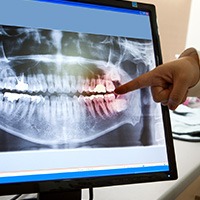 Digital X-Rays
At Pan Dental Care, we're proud to have rid our office of the dangerous and caustic chemicals used with conventional film X-rays. Now, our dentists have invested in Schick digital sensors for outstanding diagnostic power in a safe and fast package that's also favorable for the environment. Digital radiography decreases the amount of radiation patients are exposed to by about 75% when compared to the traditional technology. There are also no more darkrooms! Instant high-resolution images are captured and available for viewing in mere seconds. As a result, even the most complex examinations and diagnoses can be completed quickly and confidently.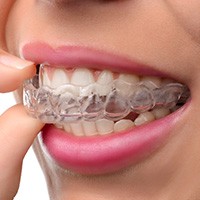 Custom Nightguards
After a night's sleep, do you wake up in the morning and feel like your jaw muscles are tired and achy? And, a feeling of fullness
in your ears accompanied with a ringing sound, too? Do you regularly find it difficult to chew food without pain or fully open and close your mouth? Has severe, lingering jaw pain become a normal part of your daily routine? These symptoms are typically the result of a TMJ disorder, which negatively affects the joints that control everyday jaw movement. Thankfully, our dentists are very familiar with the tell-tale signs of this common ailment, and they can provide dedicated therapy to bring back harmony to your oral structures. This may involve adjusting the surfaces of certain teeth to correct dysfunction or providing a custom-made occlusal splint (night guard) that helps reposition your jaw's resting position during sleep.
Ready to restore your decayed, cracked, or chipped teeth with CEREC crowns?
Call Pan Dental Care in Melrose, MA at (781) 665-5190 to schedule your appointment today!