DIGITAL X-RAYS & COMUPUTERIZED 3D TECHNOLOGY
Pan Dental Care in Melrose, MA
Pan Dental Care Known for Excellence and Outstanding Computerized Technology
Modern & Superior Quality for Excellent Care
WHY CHOOSE PAN DENTAL CARE?
All-Digital X-Rays for Minimal Radiation Exposure (80% Less Radiation)
Experience Outstanding Diagnostic 3-Dimensional X-Ray Capability
Trusted in Computerized Digital Technology Since 1988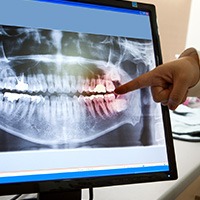 DIGITAL X-RAYS
At Pan Dental Care, we're proud to have rid our office of the dangerous and caustic chemicals used with conventional film X-rays. Now, our dentists have invested in Schick digital sensors for outstanding diagnostic power in a safe and fast package that's also favorable for the environment. Digital radiography decreases the amount of radiation patients are exposed to by about 75% when compared to the traditional technology. There are also no more darkrooms – and now, high-resolution images are captured and available for viewing in mere seconds. As a result, even the most complex examinations and diagnoses can be completed quickly and confidently.
3-D CONE-BEAM IMAGING

When planning an advanced treatment like surgical dental implant placement, our dentists at Pan Dental Care in Melrosealways want to proceed with full confidence. That's why they regularly utilize the state-of-the-art Galileos 3D Cone Beam Imaging, which creates three-dimensional, exhaustively detailed images of a patient's teeth, jaw, joints, and related facial structures with crystal-clear clarity. By being able to view even the smallest details of your dental anatomy, we can carry out important services with unparalleled precision and success.
A digital x-ray allows the dentist to take an image of the tooth or teeth and put it into an imaging program. Within this imaging program, there are a number of tools that will allow the dentist to take a very close look at the teeth and surrounding structures with amazing accuracy.
As a benefit to the patient, the digital x-ray also provides nearly 80% less radiation than a standard x-ray. This is due to the fact that the digital version of the x-ray is much more sensitive to this radiation and has been specifically designed with the patient in mind.