DENTAL CROWNS & BRIDGES - MELROSE, MA
Regain Strong, Functioning Teeth at Pan Dental Care
When a tooth is weakened due to previous root canal treatment or fracture, it is often recommended by your dentist to have a crown made in order to strengthen the tooth and protect it from further injury. Esthetic, custom-made dental crowns and bridges are available here at Pan Dental Care for revitalizing your confident, healthy smile.
WHY CHOOSE PAN DENTAL CARE FOR CROWNS & BRIDGES?
Emax, Zirconia and Ceramics for Outstanding Aesthetics
Dental Implants Available In-Office
Advanced-Trained Dentists & Decades of Proven Experience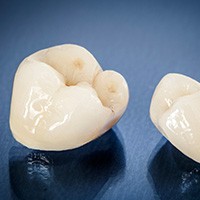 DENTAL CROWNS AT PAN DENTAL CARE
Dental crowns are highly versatile restorations that are designed to treat individual teeth. Their purpose has a two-pronged effect – the crown's customized shape will fit over the remaining natural structure of the tooth in question, both protecting it from further harm and rebuilding its original shape, esthetic appearance, and ability to function.
Here in Melrose, our dentists may recommend a dental crown when faced with the following situations:
A tooth already contains a large filling and needs additional support.
A tooth is suffering from advanced tooth decay that cannot be successfully treated with a filling.
A tooth has been seriously injured or fractured.
A tooth is weakened and has a high risk of fracturing in the near-future without intervention.
A tooth has a serious cosmetic imperfection that needs to be corrected.
A tooth has been treated with root canal therapy and needs to gain strength and protection.
We enjoy recommending all-ceramic, metal-free dental crowns whenever possible for superior aesthetic results. This type of restoration is also made to restore state-of-the-art dental implants.
DENTAL BRIDGES AT PAN DENTAL CARE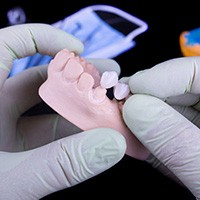 Dental bridges contain multiple prosthetic teeth that are designed to fill in the space(s) left by one or multiple lost teeth in a row, effectively "bridging" their gap. Traditionally, they are anchored sturdily in place with the help of additional dental crowns, which are placed over adjacent healthy teeth. However, this treatment does require the removal of healthy tooth structure. That is why our dentists at Pan Dental Care now strongly recommend opting for single dental implants or an implant-retained dental bridge to restore empty spaces while preserving the other existing teeth that lie adjacent to the space.
Implant-retained bridges have the same basic design as traditional bridges, but they are anchored in place over two dental implants that are directly inserted into the jawbone. As a result, the patient's oral health is better preserved and natural teeth don't have to be majorly altered to accommodate the new restoration.
Dental bridges offer patients numerous valuable benefits:
Renewed biting strength and function
Avoidance of natural teeth from tilting and shifting out of position
Maintenance of patients' natural facial shape and appearance
Improvement of overall self-confidence
Over time our teeth begin to weaken and become more susceptible to problems such as decay, cracks, discoloration and others. If you feel your smile isn't what it once was, crowns can help you recover your smile. If your dentist notices that a tooth is decayed or seems weakened/cracked a crown may be necessary to make sure that there are no additional problems with the tooth. In cases like this a filling or bonding will not be sufficient.
Crowns can be made from porcelain, porcelain fused to metal, or a full gold crown. To maintain a natural look and feel a porcelain finished crown is best, as it can be matched to the shade of your other teeth. This will allow it to blend in and appear just like one of your natural teeth.
The process of installing a crown takes 2-3 visits to the dentist. On the first visit the tooth will be reshaped by filing down the enamel so that the crown can be placed over it. You will be given a local anesthetic before this part of the procedure so that you do not experience any discomfort. Once the tooth has been reshaped, a mold will be taken of that tooth and the surrounding teeth. This mold will be sent to a dental lab so that your new crown can be made so that it fits in the spot created for it and looks the same relative to the surrounding teeth. Before leaving, your dentist will fit you with a temporary crown until your permanent crown is ready.
The crown takes about 2-3 weeks to be returned to your dentist. At this time you will have another appointment to place and fit the permanent crown. You will again have a local anesthetic to numb the area and the tooth will be placed using a cement to ensure the tooth sets in place. When you look in the mirror, you will see your old smile back. Crowns are durable and will usually last about 10-15 years. You should care for it as you would any of your other teeth with regular brushing and flossing. Call us today at Pan Dental Care if you would like to learn more about how crowns can help restore your smile.